Become a VIPS Hosting Office
A Win-Win for your Practice & for your Patients
When a dentist does not perform procedures such as extractions, root canals, dental implants, or connective tissue grafts, he/she will typically refer these procedures out of the office to another dentist. In doing so, not only is the patient inconvenienced, but also all the revenue associated with the procedures follows the patient.
The VIPS associateship model utilizes a traveling/mobile dentist who treats your patients in your office as a traditional associateship dentist would, but only on an as-needed basis without the long-term commitment of the traditional associateship. The VIPS model has all of the benefits of the traditional associateship model without the headaches.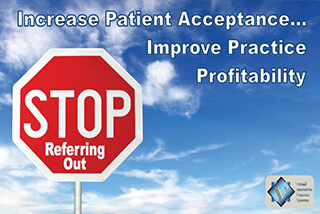 Why refer out when your patients prefer to be referred in? Increase your profitability, and keep your patients happy by having extractions, implants, and root canals completed in your office. Ask yourself these three questions:
Do you want to offer more services in your practice?
Do you have treatment rooms that are not fully utilized?
Do you want to improve practice profitability?
If you answered "yes" to any of the questions above, a partnership with VIPS is worth exploring. VIPS provides a better alternative for increasing income. With our system, you get improved practice profits and increased personal freedom.
Calculate Your Revenue Potential
| Procedure | # Referred Out/Month | Estimated Fee |
| --- | --- | --- |
| 3RD MOLARS W/I.V | | |
| IMPLANTS | | |
| ROOT CANAL | | |
| CONNECTIVE TISSUE GRAFT | | |
Gross Revenue Referred Out
Potential Retained Revenue (working with VIPS model)
With VIPS, you could earn an additional
$
0
in the next 10 years.